The Last Human
Warning: This article or section contains spoilers.
The Last Human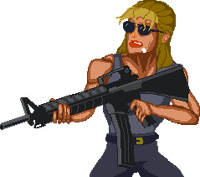 Ammonomicon Entry
Transistor Resistor
Name: Human #7,868,929

Age: Human Sol Year, 39

Priority: 1

Note: Investigate robot-compatible headbands.


The last human hero, hope of all mankind. If she were to live, humanity might one day stand a chance against their robotic oppressors.
The Last Human is the boss of The Robot's past. The Last Human is a very powerful fighter, the hope and the difference between life and death for the human race. Now go kill it.
Behaviour
[
edit
]
The Last Human has multiple attacks.
Fires several spirals of bullets outwards.
Fills a large portion of the Arena with poison.
Summons two humans with shotguns.

These humans shoot 2 shotgun blasts that alternate between Red Shotgun Kin bullet spreads and a V shaped blast that predicts the player's movements similar to Veteran Shotgun Kin.

Fires a large amount of bullets randomly.
Shoots five grenades in the general area of the player.
Between each attack, she either attempts to run out of the way of the player's bullets or she teleports.
The Last Human is a reference to Sarah Connor from the Terminator series.

The boss card images in the game files are named "Sarcon", a portmanteau of "Sarah" and "Conner".
The humans summoned by The Last Human are similar in appearance to the Terminator from the same series. They turn into critters upon death, which is a reference to the Sonic franchise.
The summoned humans are equipped with Winchester in and with Thunderclap after . The sound effect did not change after the update.
This reference is also affirmed by the alt-skin unlocked by defeating her, which shares visual similarity with the T-800's internal frame; this includes two distinct, glowing-red eyes.
In addition, the middle of the arena is littered with skulls, reminiscent of the beginning of Terminator 2.

The phrase "Transistor Resistor" is a pun on electrical components (transistors and resistors) and how she fights against, or resists, robots.
The walls of the arena are decorated with graffiti which reference fictional dystopias and robots:

The "Claw" Combine symbol from Half-Life 2
The logo of Mother Russia Bleeds, a beat 'em up game published by Devolver Digital
Mettaton, the robot game show host from Undertale.
An E-Tank decal and a schematic reminiscent of the select screen in various Mega Man games.
A crude drawing of Atlas and P-Body from the Portal 2 cooperative campaign.
Jailbot, from the animated series, Superjail
Crow and Tom Servo from the series, Mystery Science Theatre 3000
A Magnemite from the Pokémon game series
Gallery
[
edit
]
See also
[
edit
]